High effectiveness - clinically tested
Numerous studies show that thymic peptides have a regenerating and strengthening effect on the hair follicles - and can stop hair loss.
The biological effectiveness of Thymuskin is demonstrated above all in the activation of the hair cells (keratinocytes), which have a decisive influence on the physiological growth of the hair. Hair formation is stimulated and the growth phase extended. Various enzymes that play a decisive role in the development of hair loss are inhibited. Hair growth is thus stimulated sustainably.
The positive effect of Thymuskin has been convincingly confirmed many times at dermatological and university clinics:
Academic teaching hospital of the universities of Frankfurt and Heidelberg
City Hospital Vienna-Lainz, Austria
Ruprecht-Karls-University Heidelberg
Muenster University
Hanover Medical Academy
I. Medical Clinic and Polyclinic at the "Klinikum rechts der Isar" of the TU Munich (1988)
German Cancer Research Center Heidelberg
University of Dermatology Milano, Italy
Clinical studies available to health care professionals on request (info@thymuskin.de)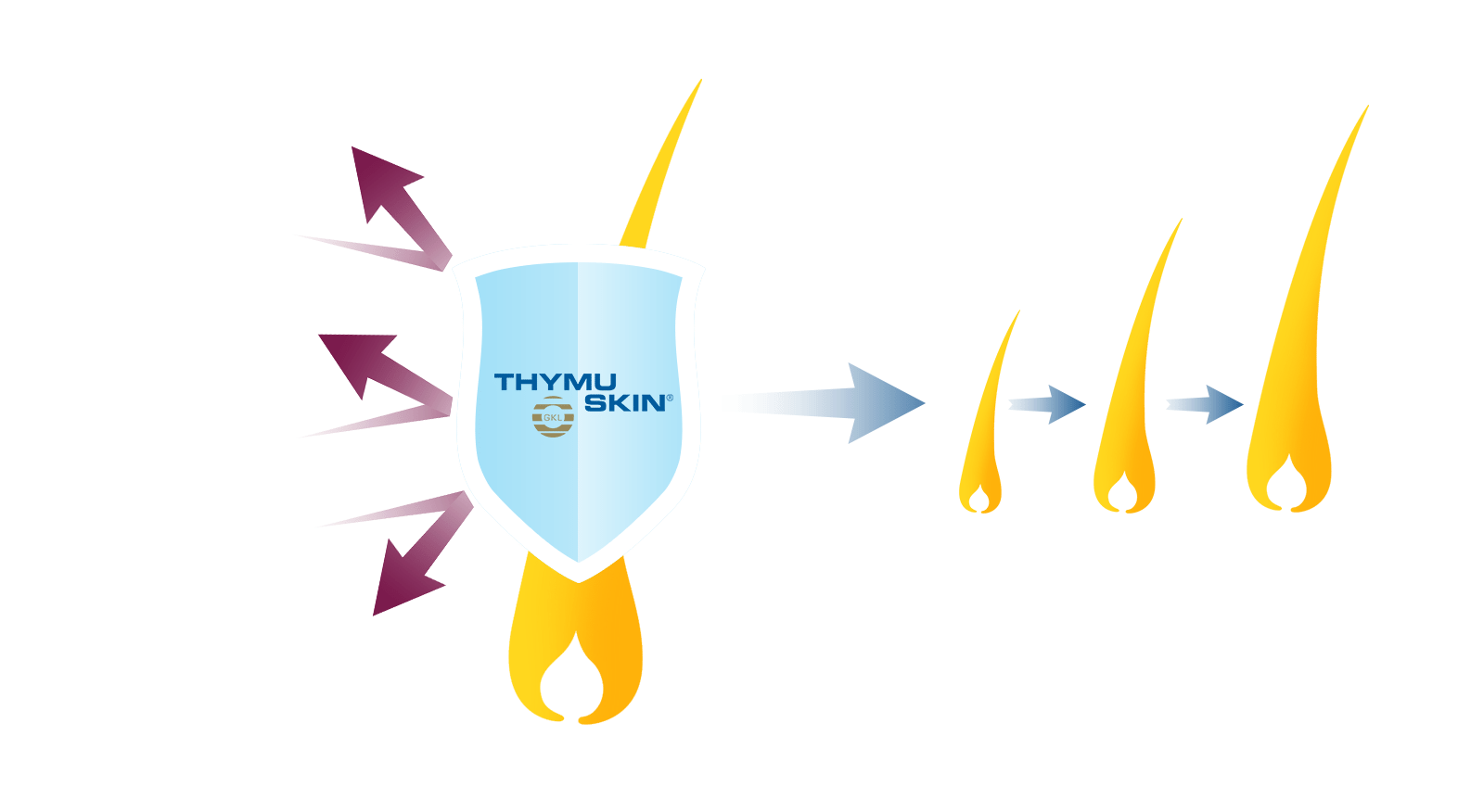 Care with THYMUSKIN®
The patented active ingredient complex GKL-02 contained in Thymuskin consists of non-animal thymic peptides.
The biological activity of Thymuskin is particularly evident in the activation of the hair cells (keratinocytes), which have a decisive influence on the growth of the hair. Hair formation is stimulated.
Cosmetic tolerance
Thymuskin is free from any undesirable side effects.
In addition to the thymic peptide active ingredient GKL-02, Thymuskin contains additional care substances for skin and hair.
Thymuskin is suitable for long-term use - for healthy and naturally growing hair.
The Thymuskin serums of the Classic, Med and Forte lines have been dermatologically tested on humans by the Dermatest research institute under specialist medical supervision and have passed these tests with "excellent".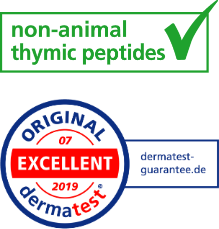 Customer voices
MT
Date: 08.04.2022
Chemotherapy
---
Dear Thymuskin Team
After my illness & following very intensive & high dose chemotherapy, I started using shampoo & serum of Thymuskin Forte line in January 2022. At that time there was not a single hair left on my body. Additionally, I use "silica" as my nails were very brittle & cracking in the most impossible places.
2.5 months later...a lot of strong hair has grown, faster than normal. The nails are also becoming more stable again, just take a little longer.
From my experience...a sensational product, which I can really recommend to other sufferers! Of course it takes some patience, 3 weeks are not enough...but the first visible results appear very quickly, which is also very valuable psychologically.
(translated German feedback)
NeMe
Date: 17.03.2022
Hereditary Hair Loss
---
Thank you for your quick reply. You have helped me a lot with this. For about 6 months I wash my hair 2 times a week and then I apply the serum. Once a week I apply the balm conditioner to it [...] Also my hairdresser is satisfied with the condition of my hair and we will recommend Thymuskin.
(translated German feedback)
NeMe
Date: 13.03.2022
Hereditary Hair Loss
---
On 17.11.2020 I wrote to you that despite treatment with Thymuskin Forte Shampoo, Forte Serum Gel, Balm Conditioner and Styling Gel no formation of new hair was visible. In the meantime, fortunately, new hair has formed and I am very pleased with it.
However, I have now heard that hairspray should not be used when using Thymuskin at the same time. Is this true? If so, what can you recommend for me so that the hair has more hold and covers the scalp evenly.
Answer from Thymuskin.
About the hairspray: most of the time, yes, hairspray is sprayed on the top of the head. This makes it extremely likely that the spray will also be deposited on the scalp. If the Thymuskin Serum is now applied, it can firstly penetrate the scalp more heavily and secondly it could be that you rub particles of the spray into the scalp when you rub in the serum. Therefore, we recommend not to use hairspray.
(translated German feedback)
Pat
Date: 03.01.2022
other
---
Good day, I have used the Thymuskin classig shampoo successfully, can I now continue to use the shampoo like a normal shampoo?
(translated German feedback)
Answer from Thymuskin
Yes, you can replace your previous shampoo with the Thymuskin Shampoo. Thymuskin strengthens the hair roots and is suitable for long-term use.
Alexandra C.
Date: 16.12.2021
Chemotherapy
---
Good day!
I had used Thymuskin Forte shampoo and gel very successfully during both complete hair losses after stem cell therapies in 2019. The hair came back pretty quickly!
Now I am being treated again with cytostatics for a recurrence and hair loss is expected again. I am currently undergoing treatment at the University Hospital * (personal data deleted) and unfortunately do not have my Thymuskin products with me.
And should I use the Forte shampoo and gel again at home? They couldn't tell me how severe the hair loss will be, but "nip it in the bud"'!
Thank you very much and best regards
(translated German feedback)
Previous
Next
Application
Using Thymuskin is very easy.
Wash your hair with Thymuskin Shampoo and leave it to take effect for a short time. After rinsing, dry your hair as usual. Then part your hair and apply the scalp serum selectively.
wash hair with Thymuskin Shampoo
part hairs and massage Thymuskin Serum into the scalp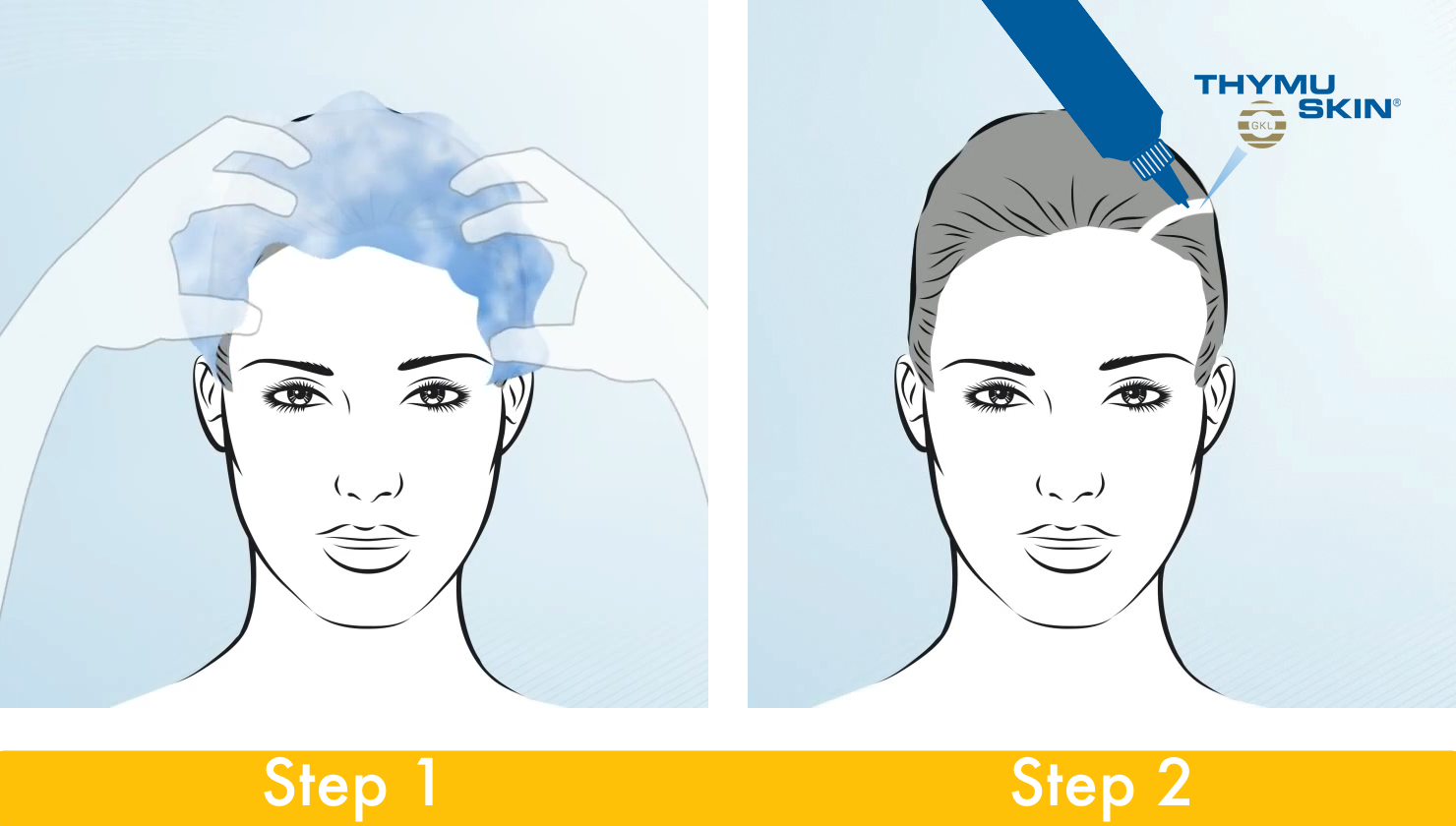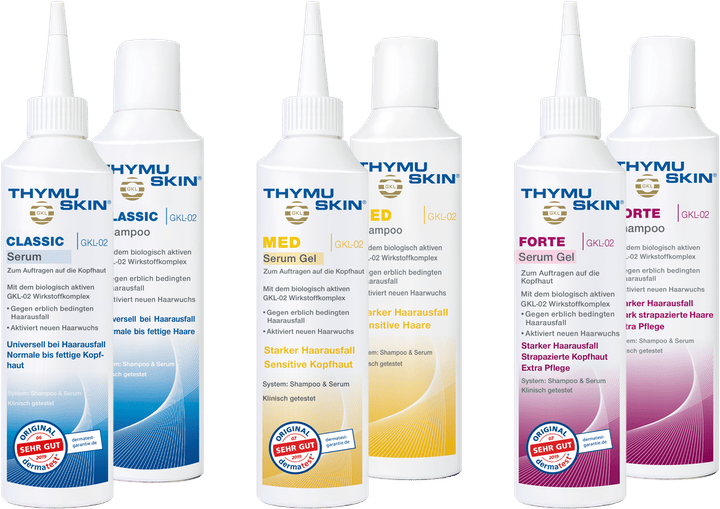 Product Finder
Here you will find the right products for your personal situation.