Effectiveness
The Thymuskin active ingredient complex is an integrated reproduction of the natural thymus extract - a peptide structure modelled on nature. Peptides are building blocks of the life of the skin and hair.
Each of these thymus peptides has a specific task. The function of such so-called signal peptides can be simplified like the operation of a light switch. In this way, cell processes can be triggered or prevented. Thus, numerous Thymuskin peptides evolve into a positive, synergistic and nature-like effect.
The biological effectiveness of Thymuskin is particularly evident in the activation of hair the cells (keratinocytes), which decisively influence the physiological growth of the hair. The hair formation is stimulated and the growth phase extended. Various enzymes that play a crucial role in the development of hair loss are inhibited. This stimulates hair growth in a sustainable way.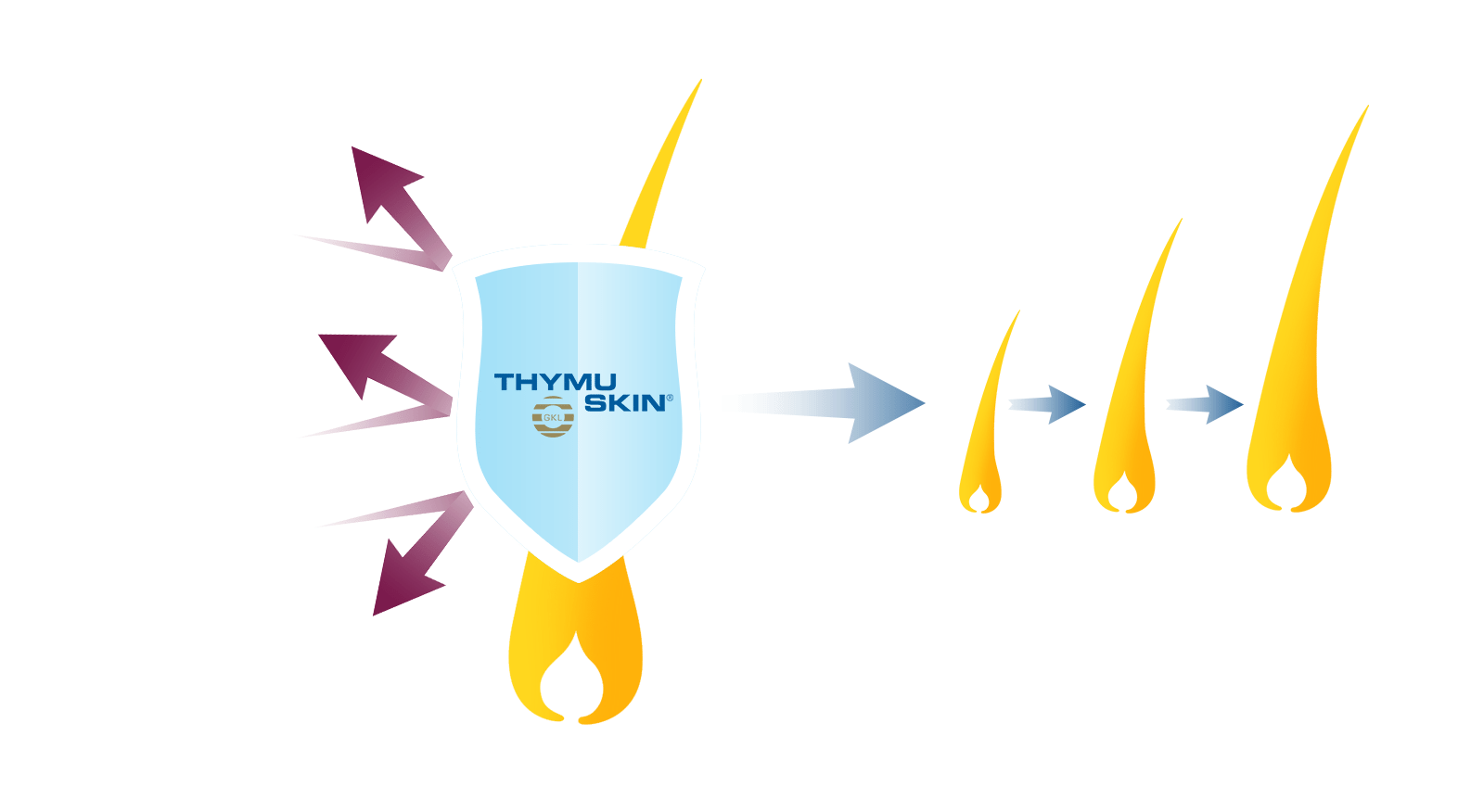 Prolonging of growth phase by protection from DHT and enzymes
Activation of keratinocytes (hair-forming cells) in the hair matrix
Growth stimulation by various thymic peptides
Clinically tested
Thymuskin is actively engaged in scientific research.
With repeated, convincing positive results found by dermatological clinics and university hospitals. Cooperation partners in the field of clinics, universities and teaching hospitals:
Academic Teaching Hospital of the Universities of Frankfurt and Heidelberg
City Hospital of Vienna-Lainz, Austria
Ruprecht-Karls-University Heidelberg
University of Münster
Medizinische Akademie Hannover
Medical Hospital of the Technical University Munich
German Cancer Research Centre Heidelberg
Dermatology Unit, University of Milan, Italy
Women Dermatologists of Italy (DDI)
Clinical studies available on request for professionals (info@thymuskin.de).
Application
Using Thymuskin is very easy.
Wash your hair with Thymuskin Shampoo and leave it on for a short while before rinsing. Dry your hair as usual afterwards. Now part your hair and massage in the treatment lotion.
Wash your hair with Thymuskin Shampoo
Part your hair and massage in Thymuskin Scalp Serum
Cosmetic tolerance
Thymuskin is free of any side effects even with long-term use.
It contains the biologically active ingredient GKL-02 and moreover additional premium caring ingredients for scalp and hair. All shampoos and scalp serums are free of silicons, parabenes and free of bovine ingredients.
For healthy and natural growing hair.