High effectiveness - clinically tested
Numerous studies show that thymic peptides have a regenerating and strengthening effect on the hair follicles - and can stop hair loss.
The biological effectiveness of Thymuskin is demonstrated above all in the activation of the hair cells (keratinocytes), which have a decisive influence on the physiological growth of the hair. Hair formation is stimulated and the growth phase extended. Various enzymes that play a decisive role in the development of hair loss are inhibited. Hair growth is thus stimulated sustainably.
The positive effect of Thymuskin has been convincingly confirmed many times at dermatological and university clinics:
Academic teaching hospital of the universities of Frankfurt and Heidelberg
City Hospital Vienna-Lainz, Austria
Ruprecht-Karls-University Heidelberg
Muenster University
Hanover Medical Academy
I. Medical Clinic and Polyclinic at the "Klinikum rechts der Isar" of the TU Munich (1988)
German Cancer Research Center Heidelberg
University of Dermatology Milano, Italy
Clinical studies available to health care professionals on request (info@thymuskin.de)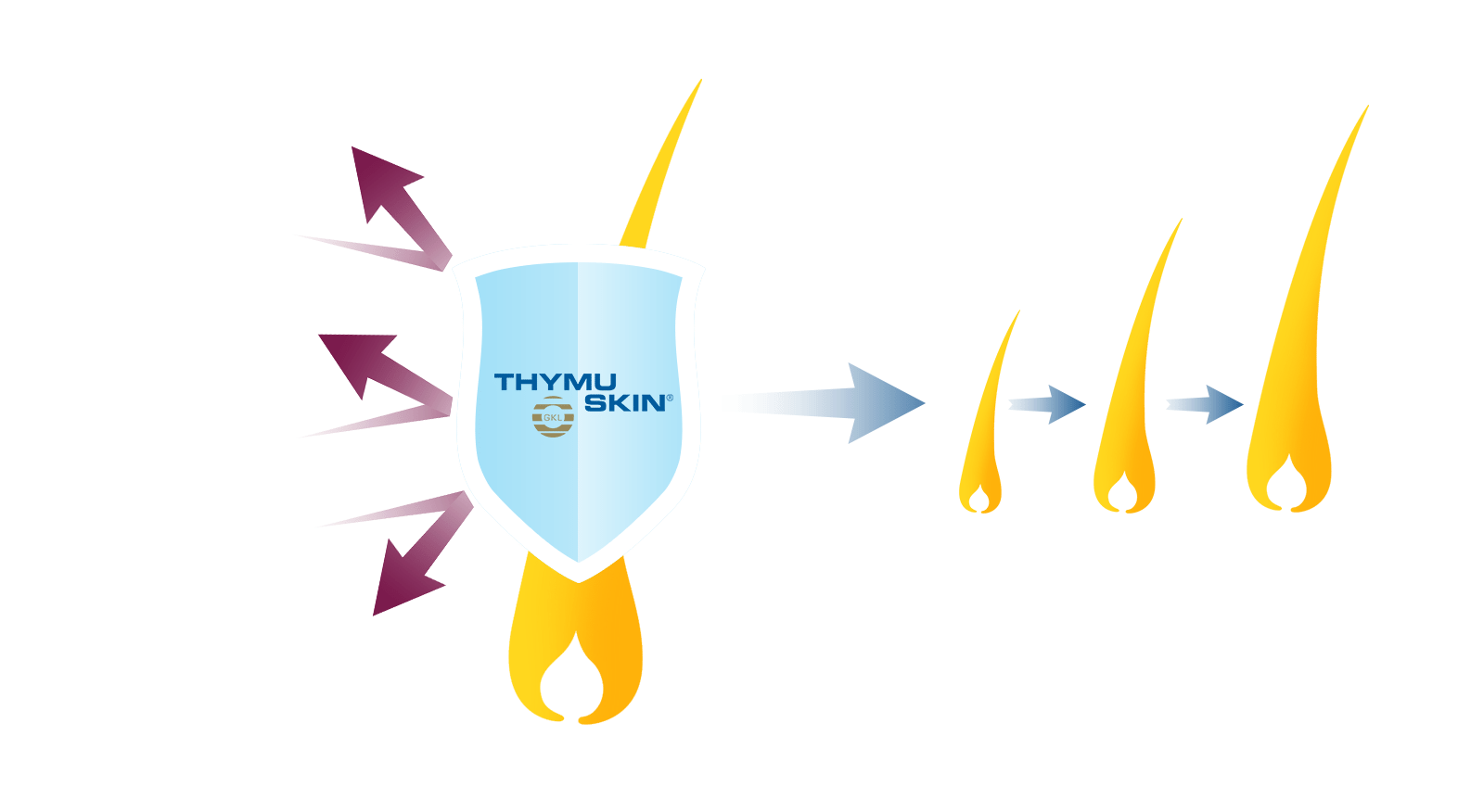 Prolonging of growth phase by protection from DHT and enzymes
Activation of keratinocytes (hair-forming cells) in the hair matrix
Growth stimulation by various thymic peptides
Cosmetic tolerance
Thymuskin is free from any undesirable side effects.
In addition to the thymic peptide active ingredient GKL-02, Thymuskin contains additional care substances for skin and hair.
Thymuskin is suitable for long-term use - for healthy and naturally growing hair.
The Thymuskin serums of the Classic, Med and Forte lines have been dermatologically tested on humans by the Dermatest research institute under specialist medical supervision and have passed these tests with "excellent".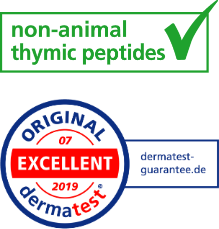 Customer voices
Dr. G.U.
Date: 12.01.2021
Circular Hair Loss Hereditary Hair Loss Scarring Alopecia
---
Hi everyone I bought both shampoo and serum on the 2nd of December 2020. I am very satisfied and my problem was alopecia areata, washed twice a day with shampoo, of course with serum, also twice a day cleared all problems, all hair came :) Thank you Thymu Skin
(translated German feedback)
D. C.
Date: 09.09.2020
Scarring Alopecia
---
I have been using the Med Shampoo and Forte Serum for 2 months now and I am very satisfied.
It has become somewhat stable and there is a lot of new hair growing in the area of the top of the head that has not yet fallen out.
All the hair has become thicker. I have treated almost the whole head so far, although only the forehead and temple area is thinned out.
(translated German feedback)
Eren
Date: 04.08.2020
Circular Hair Loss Hereditary Hair Loss Hormonal Hair Loss
---
Feel the little stubble there, but I have an itch all the time and it feels slightly numb.
(translated German feedback)
Blum
Date: 08.07.2020
Hormonal Hair Loss
---
Customer's feedback
Use the shampoo since about 3 weeks with me no improvement has happened when I see other reviews here after a 1 week improvement that I also hoped because the price is very high I am bite disappointed.
(translated German feedback)
Answer
Hello,
Thank you very much for your message to the Thymuskin Hair Consultancy.
The Thymuskin Shampoo alone can only have an effect in mild cases of hair loss, and then only the stronger variants. Everywhere we write clearly that the results refer to the combined use of Thymuskin Shampoo plus Thymuskin Serum/Serum Gel. You will also find the note on the bottles that it is a system consisting of shampoo & serum.
In addition, we offer the free service of a preliminary consultation in case of any uncertainties.
You are welcome to describe your problem to me exactly how long it has existed, tell me your sex + age, what you have done about it so far and then we will catch up with the consultation.
EL
Date: 25.04.2020
Hormonal Hair Loss Diffuse Hair Loss
---
I have now been using Serum Med daily (initially every 2 days) since November 2019 as you suggested. I have been using the shampoo for a long time. I no longer have any hair loss and new hair is growing in many places.
With kind regards, EL
(translated German feedback)
Previous
Next
Application
Using Thymuskin is very easy.
Wash your hair with Thymuskin Shampoo and leave it to take effect for a short time. After rinsing, dry your hair as usual. Then part your hair and apply the scalp serum selectively.
wash hair with Thymuskin Shampoo
part hairs and massage Thymuskin Serum into the scalp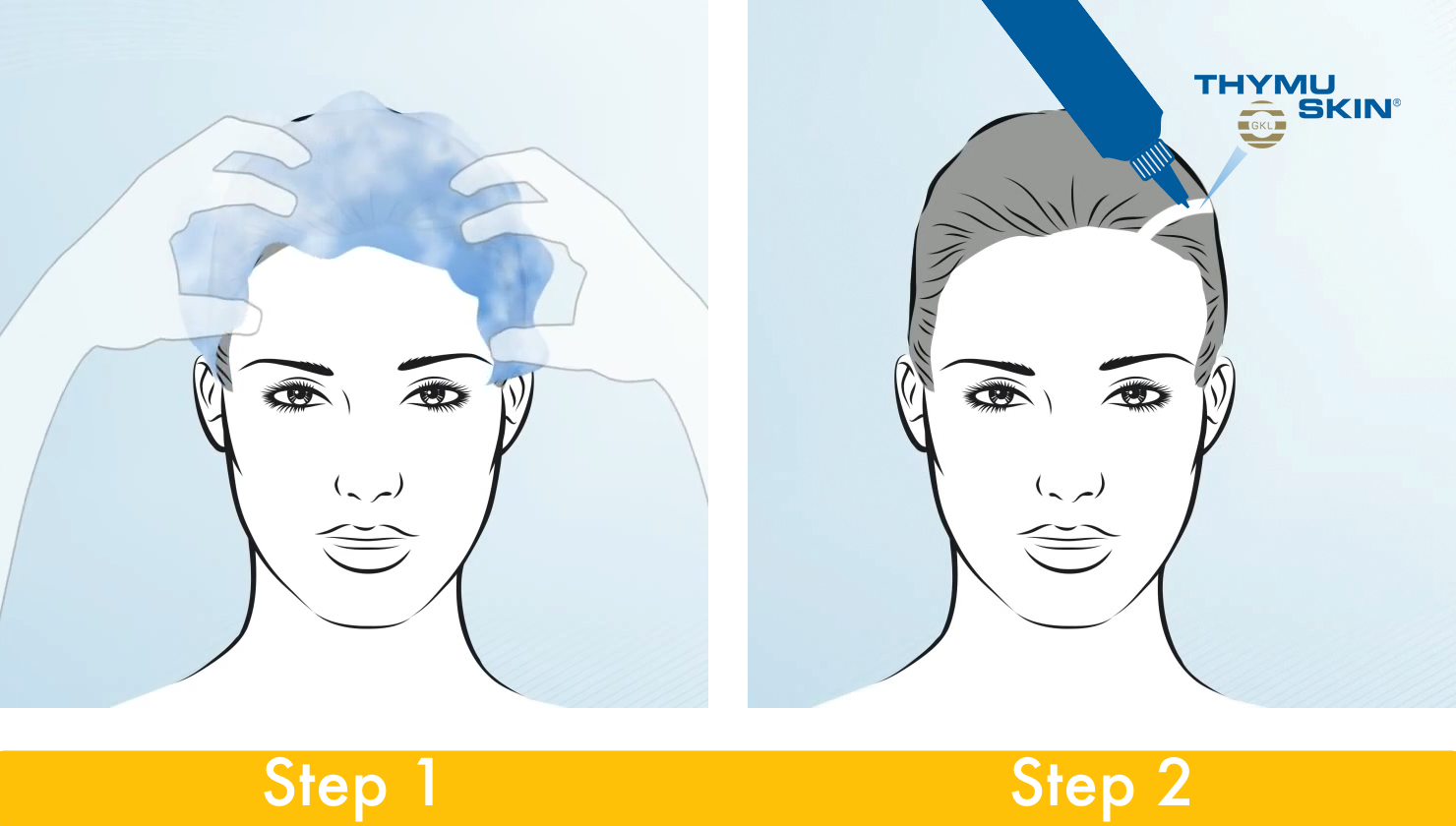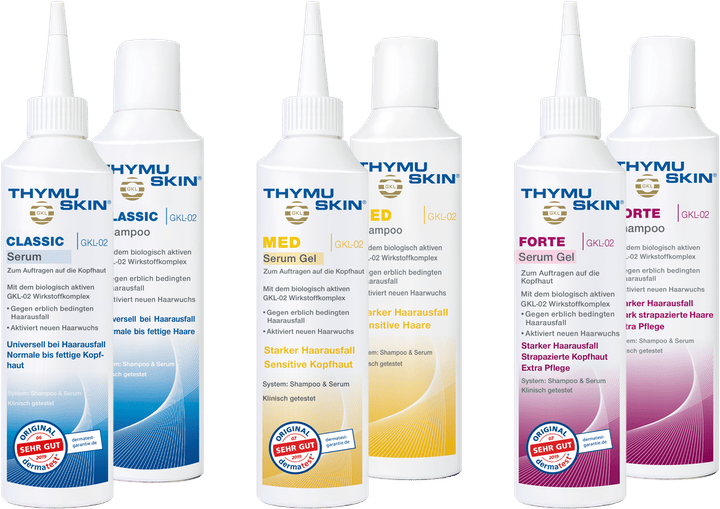 Product Finder
Here you will find the right products for your personal situation.