Effectiveness
For more than 30 years, Thymuskin has been successfully used to fight hair loss and to enhance new hair growth.
The dermatologic system is suitable for women and men and has no side effects. Thymuskin has an immunological effect on hair follicles, as it is typical for a thymic preparation.
Thymuskin contains the patented GKL-02 active complex which mimics natural thymus extract and is free of animal derived ingredients. Due to a global continuing safety trend, hair loss affected people are increasingly looking for effective alternatives to agents and ingredients with potential harmful side effects.
The biologically active agent GKL-02 inhibits various enzymes that play a key role in the loss of hair. Harmful DHT is blocked. This way Thymuskin reduces the dying of hair follicle cells and can often even totally stop it. Furthermore, Thymuskin activates and proliferates the keratinocytes in the hair matrix, the basic substance of each hair. Based on the effectiveness, study results and being free of side effects, Thymuskin is more and more recommended by dermatologists, pharmacists and salon owner.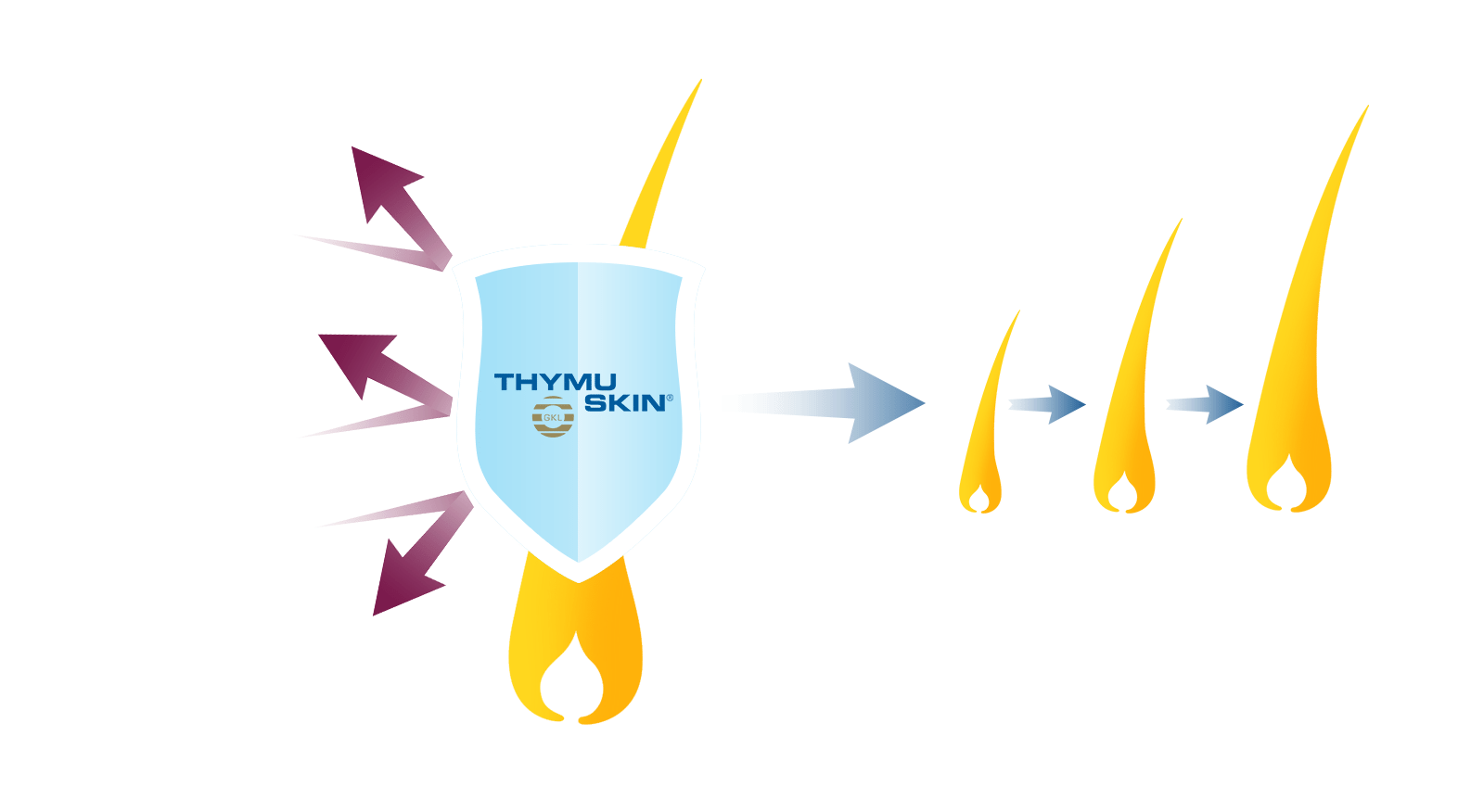 Prolonging of growth phase by protection from DHT and enzymes
Regeneration of hair follicles by activation of keratinocytes
Growth stimulator Thymuskin
Clinically tested
Thymuskin is actively engaged in scientific research.
With repeated, convincing positive results found by dermatological clinics and university hospitals. Cooperation partners in the field of clinics, universities and teaching hospitals:
Academic Teaching Hospital of the Universities of Frankfurt and Heidelberg
City Hospital of Vienna-Lainz, Austria
Ruprecht-Karls-University Heidelberg
University of Münster
Medizinische Akademie Hannover
Medical Hospital of the Technical University Munich
German Cancer Research Centre Heidelberg
Dermatology Unit, University of Milan, Italy
Women Dermatologists of Italy (DDI)
Application
Using Thymuskin is very easy.
Wash your hair with Thymuskin Shampoo and leave it on for a short while before rinsing. Dry your hair as usual afterwards. Now part your hair and massage in the treatment lotion.
Wash your hair with Thymuskin Shampoo
Part your hair and massage in Thymuskin Scalp Serum
Cosmetic tolerance
Thymuskin is free of any side effects even with long-term use.
It contains the biologically active ingredient GKL-02 and moreover additional premium caring ingredients for scalp and hair. All shampoos and scalp serums are free of silicons, parabenes and free of bovine ingredients.
Hair Care
Patented thymic peptide complex GKL-02.
In addition to natural substances and cosmetic ingredients, Thymuskin also contains the active thymic peptide complex GKL-02. This ingredient composition is foremost responsible for the revitalization and regeneration of the hair.
Furthermore, the four Thymuskin lines are suited to match individual hair and scalp conditions. The result is beautiful, natural and strong hair, free of unwanted additives such as parabens, silicones or animal ingredients.