High effectiveness - clinically tested
Numerous studies show that thymic peptides have a regenerating and strengthening effect on the hair follicles - and can stop hair loss.
The biological effectiveness of Thymuskin is demonstrated above all in the activation of the hair cells (keratinocytes), which have a decisive influence on the physiological growth of the hair. Hair formation is stimulated and the growth phase extended. Various enzymes that play a decisive role in the development of hair loss are inhibited. Hair growth is thus stimulated sustainably.
The positive effect of Thymuskin has been convincingly confirmed many times at dermatological and university clinics:
Academic teaching hospital of the universities of Frankfurt and Heidelberg
City Hospital Vienna-Lainz, Austria
Ruprecht-Karls-University Heidelberg
Muenster University
Hanover Medical Academy
I. Medical Clinic and Polyclinic at the "Klinikum rechts der Isar" of the TU Munich (1988)
German Cancer Research Center Heidelberg
University of Dermatology Milano, Italy
Clinical studies available to health care professionals on request (info@thymuskin.de)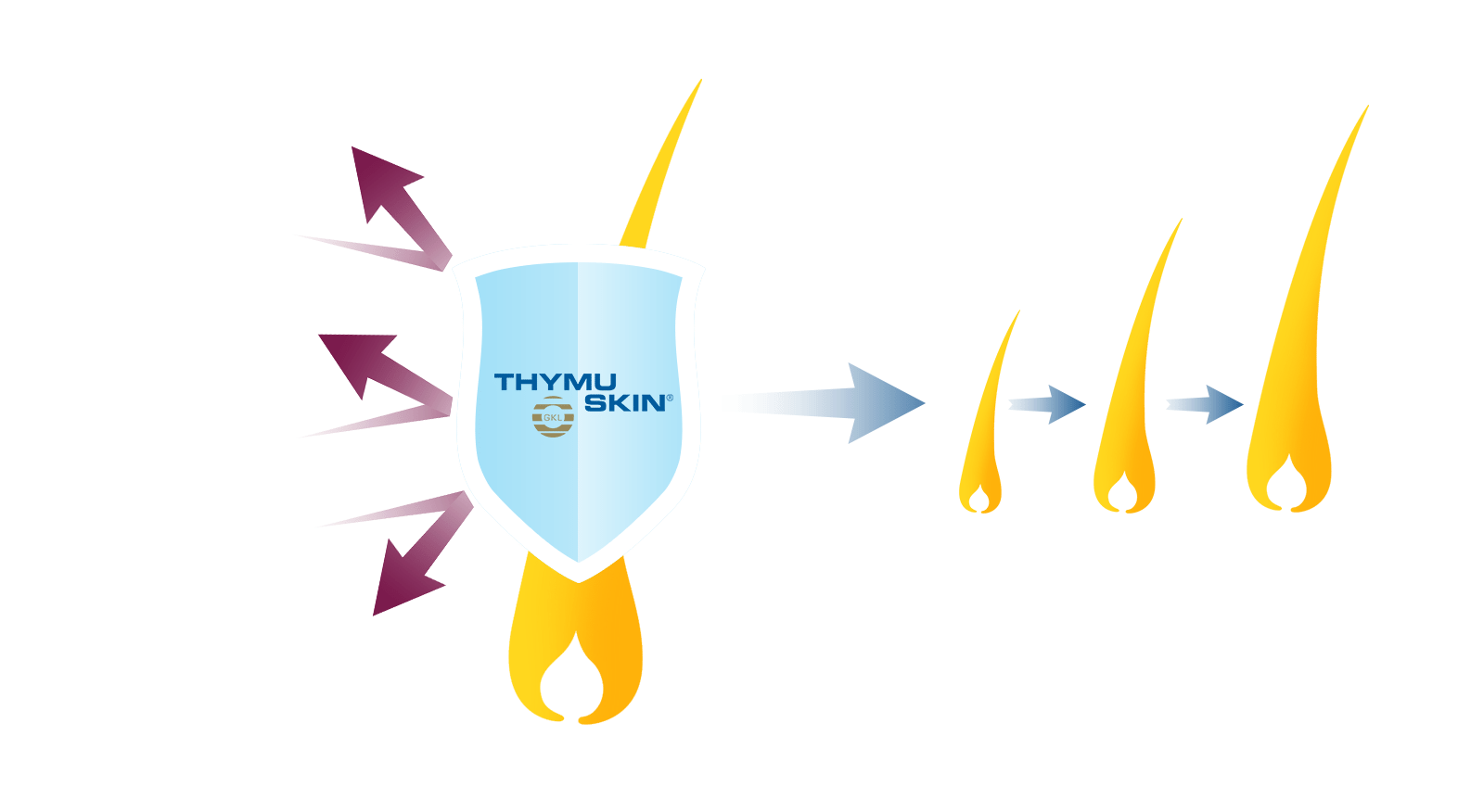 Care with THYMUSKIN®
The patented active ingredient complex GKL-02 contained in Thymuskin consists of non-animal thymic peptides.
The biological activity of Thymuskin is particularly evident in the activation of the hair cells (keratinocytes), which have a decisive influence on the growth of the hair. Hair formation is stimulated.
Cosmetic tolerance
Thymuskin is free from any undesirable side effects.
In addition to the thymic peptide active ingredient GKL-02, Thymuskin contains additional care substances for skin and hair.
Thymuskin is suitable for long-term use - for healthy and naturally growing hair.
The Thymuskin serums of the Classic, Med and Forte lines have been dermatologically tested on humans by the Dermatest research institute under specialist medical supervision and have passed these tests with "excellent".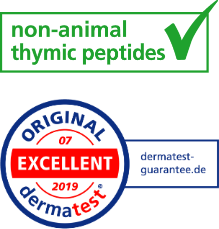 Customer voices
Azize
Date: 06.09.2021
Diffuse Hair Loss
---
After the Covid-19 infection, my hair became light and my hair structure changed. I have been using the product for 4 weeks now and I can clearly see an improvement after only two weeks. I am very satisfied, highly recommended!
(translated German feedback)
MN
Date: 18.08.2021
Scarring Alopecia Circular Hair Loss
---
This product saved my life. I was dealing with a thyroid issue where my immune system was attacking my hair. I begin to develop alopecia. I became bald from the nape of my neck up to the center of my head. It was very traumatizing and depressing as I always had beautiful, long hair. I went to a dermatologist and received injections to suppress my immune system. After that, I found this product, thymu skin, and started using it. Within months, my hair started to grow back in locks of curls. Long story short, my hair grew 16 inches. #testimony #GodisGood Thanks Thymuskin!!
IK
Date: 15.04.2021
Seborrheic Eczema
---
About Thymuskin again: the Reg shampoo is really good for me, because it also means that the greasy roots do not reappear until the third day. However, it is a keratolytic (albeit a mild one) which, as you know, should not be used for too long. But your dermatologist reassured me, so I'll stick with it for now. Maybe I should alternate with Classic? On the one hand, you should continue to use products that are good for you, on the other hand, I have already been surprised by habituation effects.
But at least I'm glad that the dandruff and especially the crusts are gone and I wonder if I had seb. eczema at all? Did I have eczema at all? Doctors are also known to be wrong....
(translated German feedback)
U
Date: 22.02.2021
Diffuse Hair Loss Hereditary Hair Loss Drug-induced Hair Loss
---
Enclosed is brief feedback on my hair situation using Thymusskin Med Shampoo and Gel. I suffered from acute hyperthyroidism and severe diffuse hair loss (severe thinning and loss). Until the * therapy, I had to take the medication *, which also causes hair loss. With the use of Thymusskin products, the hair loss stopped immediately. I was very positively surprised. I had not expected this, I had already tried so many things, but nothing had helped so far. About the situation: I had less hair loss than ever before. At the most, I lost 5 hairs when combing my hair and at the most 15 hairs when washing my hair. The hair also looked more beautiful and felt great again. The scalp tingling also went away. 2 months later, the * therapy (high dose) was carried out, combined with the administration of high doses of * for weeks and other medications, such as *, * and *. The therapy now resulted in a thyroid response. The therapy now caused an underactive thyroid gland and, unfortunately, increased hair loss again (after 3 months). Special examinations of the hair/ hair roots showed that the acute hair loss was mainly caused by the medication administered. I now hope that after the acute phase the hair will recover somewhat under Thymusskin. I will definitely continue to use the products and can really recommend trying them out.
* mention of medication removed for legal reasons
(translated German feedback)
TH
Date: 03.02.2021
Circular Hair Loss
---
Customer feedback
Hello I bought the thymuskin shampoo and serum because I read so many positive reviews but the serum & shampoo didn't help at all.
Note from Thymuskin
The order was delivered to the customer on 05.01. and therefore Thymuskin was only used for about 3 weeks. We recommend at least 3-6 months of use for alopecia areata.
The positive effect always depends on the stage of hair loss, the individual situation and predisposition. In the initial stage, the first successes are visible after about 3 - 6 months, but in the case of hairlessness only after 12-24 months. We point this out in our product inserts as well as in further information in the form of flyers and on the website. In the course of the free counselling offered by us, the individual situation can be addressed.
(translated German feedback)
Previous
Next
Application
Using Thymuskin is very easy.
Wash your hair with Thymuskin Shampoo and leave it to take effect for a short time. After rinsing, dry your hair as usual. Then part your hair and apply the scalp serum selectively.
wash hair with Thymuskin Shampoo
part hairs and massage Thymuskin Serum into the scalp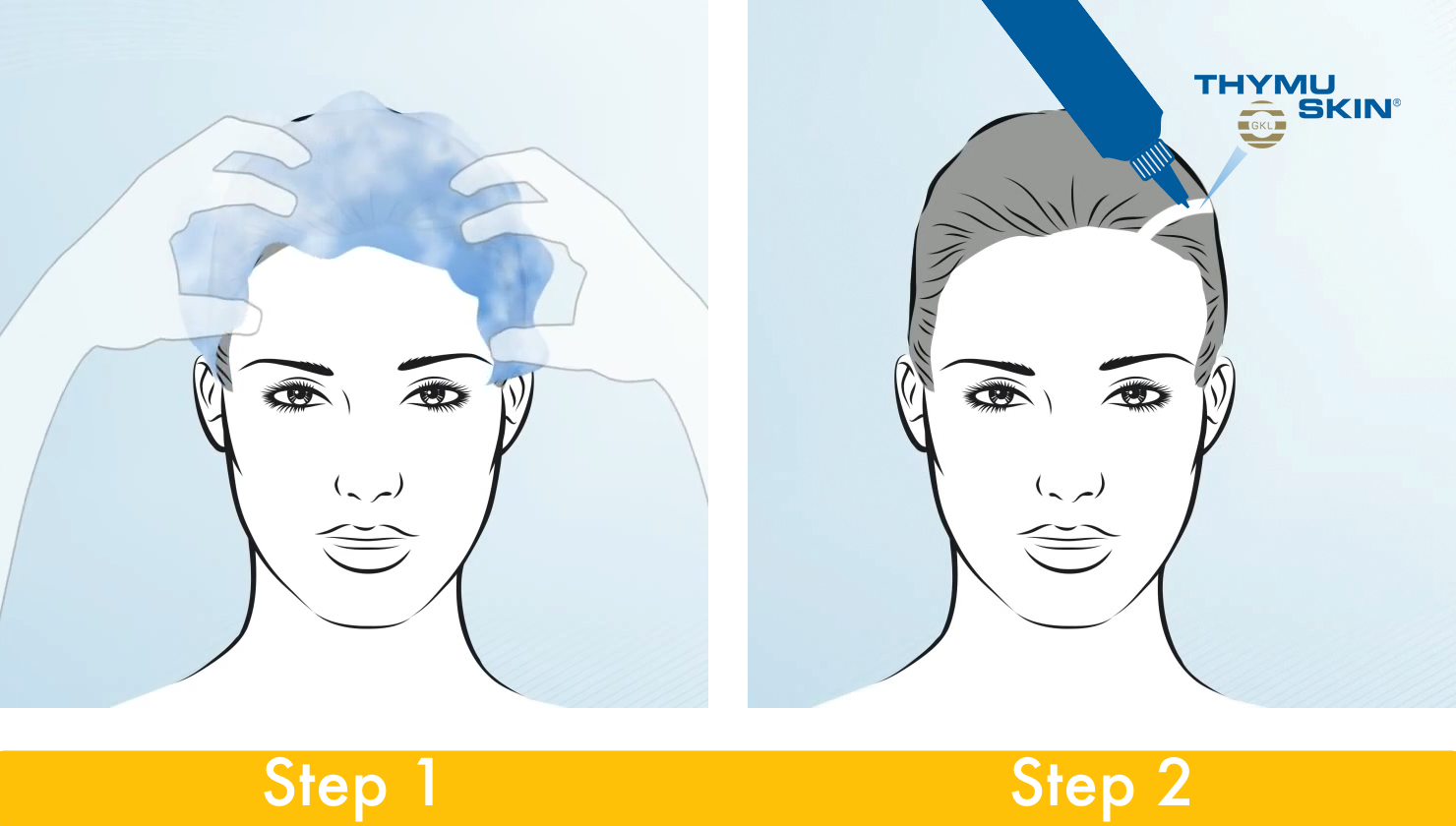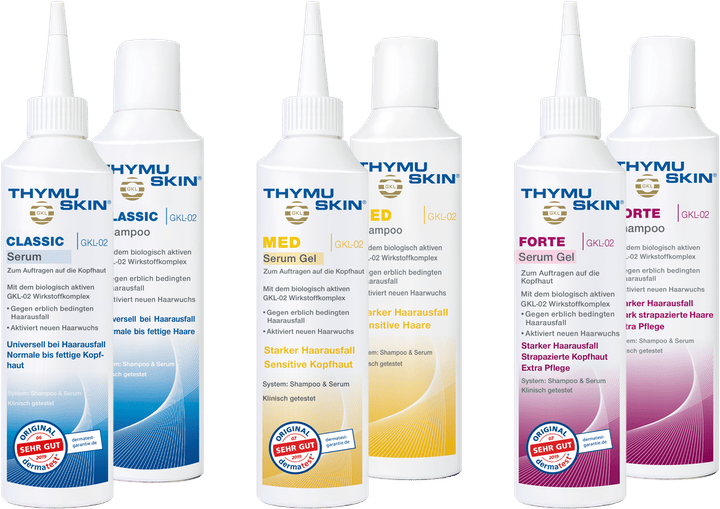 Product Finder
Here you will find the right products for your personal situation.