Application
Using Thymuskin is very easy. Wash your hair with Thymuskin Shampoo and leave it on for a short while before rinsing. Dry your hair as usual afterwards. Now part your hair and massage in the scalp treatment serum.
The usage
Low dosage, but regular use.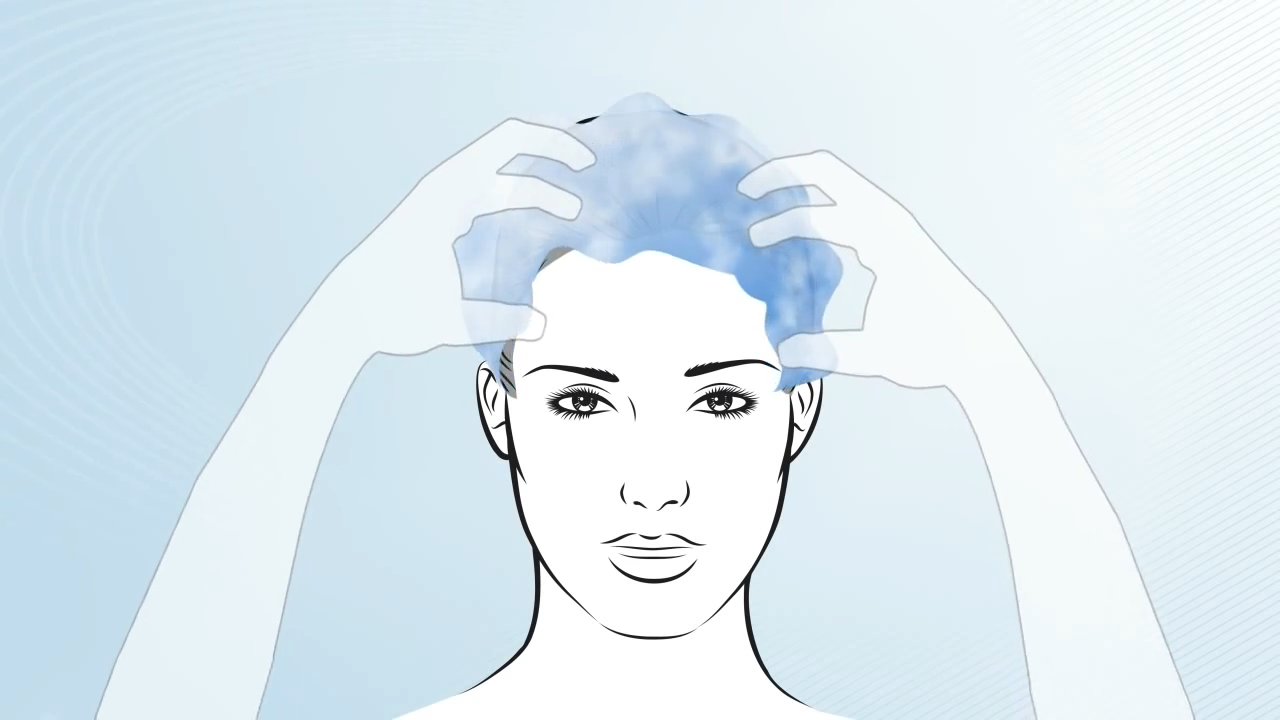 Step 1: Wash your hair with Thymuskin Shampoo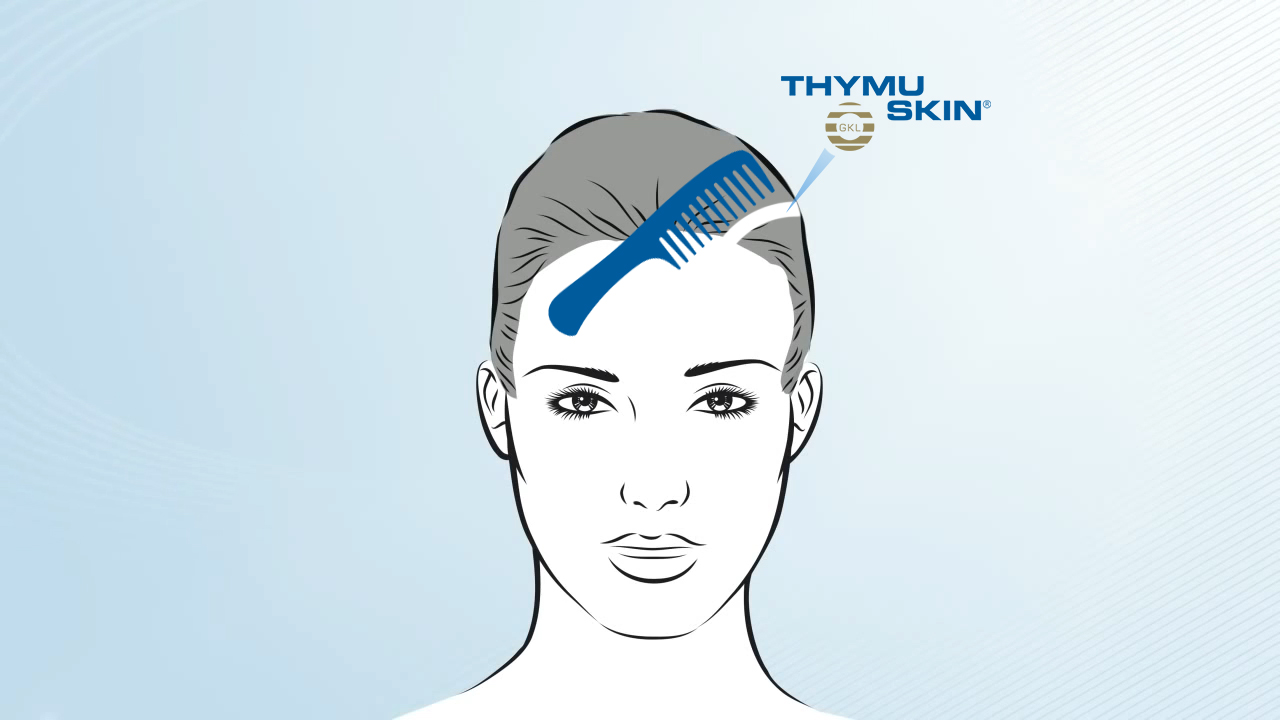 Step 2: Part your hair and massage in Thymuskin Scalp Serum
1. When do you use Thymuskin
hair loss
re-activation of new hair growth
hair care (strenghtens & optimizes hair structure)
The dermatologic Thymuskin System consists of a combined application: Thymuskin Shampoo & Thymuskin Serum for application to the scalp.
2. The Hair-Count-Method
We recommend to count the number of lost hairs per day. This easy and effective method documents the course of the application and the results. Only this way you can determine if the hair loss situation is improving or not. A decrease in hair loss usually starts slowly and can be overseen if you don't make the hair count.
Please wash your hair at the same intervals as usual (e.g. daily or every second day) to ensure that the results are acurate. Wash your hair once per week on a selected day over a closed hand washbasin.
Draw the hair out with a comb.
Put the hairs on a tissue and count the number of hairs.
Enter the number of lost hair in the Thymuskin Webb App or in the Thymuskin Hair Record.
Make a hair count on a weekly basis at a fixed day. This way you get control about the development of your hair loss and you can monitor the success of Thymuskin.
If you change the hair washing intervals, you will have to wait 4 weeks before counting the hair loss again in order to ensure an accurate result.
A light-hair-loss is classified by 100-150 lost hairs per day. As of 150 lost hairs per day we speak about strong-hair-loss.
3. Find the right Thymuskin product-combinations
The individual Thymuskin product-combination you will find in our product finder.
4. How to use Thymuskin products
The main principle:
Wash your hair with the Shampoo
Massage the Scalp Treatment Serum into your scalp
Use less but frequently
The Thymuskin Scalp Treatment Serum should be initially be used every day after washing hair with Thymuskin Shampoo. Daily use should however always be continued for a duration of 12-15 weeks. Wash your hair regularly with Thymuskin Hair Shampoo. After drying your hair (without hair-dryer), massage the Thymuskin Scalp Serum in your scalp (apply on the scalp, not on the hair). After 8-12 weeks, the hair status will already normalize while constantly using Thymuskin with the active-peptide-complex. Hair roots will be promoted for growth. Use can be reduced to 3 x per week after the hair loss has normalized and much fewer than 100 hairs are falling out of each day.
We recommend to apply the Thymuskin hair-loss-therapy for not less than 3 month.
After successful therapy you can switch to Thymuskin PREVENT, which is lower concentrated and keeps up the successful status on long term.
5. Thymuskin Hair Shampoos
The dosage recommendations are standard values and are not to be considered as generally binding recommendations. A dry scalp or long hair needs more shampoo and scalp serum, compared to normal scalp and short hair.
Use:
For gentle cleaning and basic conditioning, rinse your hair thoroughly with warm water
Massage the shampoo gently in your hair and scalp for about a minute
Rinse it out thoroughly with warm water
Dry the cleaned hair, preferably with a towel (if you use a hair dryer, don't point the air on your scalp)
The shampoo for cleansing- & care port-opens the pores and cleans from accumulated dirt particles. This way the scalp gets prepared for the application of Thymuskin Scalp Serum.
After sport, swimming in chlorinated water or in the sea, after sunbathing or sweating, and after having a perm don't forget to use your Thymuskin products also at the hair dresser during the hair-loss-therapy. This way you can ensure a continued application.
All Thymuskin Shampoos are concentrates, so use sparingly.
Dosage THYMUSKIN® Shampoo
Use a hazelnut-sized amount (about 1.5 ml) for short hair to double the amount for long hair.
6. THYMUSKIN® Scalp Serum and Serum Gel
Application: After washing and drying your hair, apply the Thymuskin Serum to your clean scalp and spread out evenly. Don't rinse out afterwards.
Part your hair with a comb and apply the Thymuskin Scalp Serum to the scalp.
Proceed this way with 4-5 punctual drops per parted hair line.
Please part ca. 5 hair lines for the total scalp. Close the bottle directly after use. This way, the active-peptide-complex cannot volatilize.
Massage the serum with your fingertips into the scalp until it seems dry. It is a leave-in product, do not rinse out.
Finally you can comb and style your hair as you are used to. You can also use your styling products as normal. There is no need for drying your hair or scalp after application.
Dosage THYMUSKIN® Serum
Wet scalp with water (approx. 2 ml to max. 4 ml). Distribute serum well, not so much that it runs down the head.
7. Activation of hair follicles
When starting to use Thymuskin, activation of hair follicles may result in slightly increased hair loss. In order to minimise this possible effect, you can start using only Thymuskin Shampoo in the first week, then add the use of Thymuskin Serum from the second week on every two days, and increase weekly to daily use in the fourth week. When the hair status has improved, follow this process in reverse order to complete the therapy.
8. Personal advice from THYMUSKIN® experts
We offer all our Thymuskin customers an individual advice via E-Mail. There are many hairloss causes and also many other conditions to take into account, when starting a therapy. This leads to individual questions, which we are looking forward to answer, based on our longterm experience in all matters about hairloss and activating new hair growth.