2 steps to the right choice of THYMUSKIN® Shampoo & Serum therapy-combination
Shampoo
Choose the Thymuskin Shampoo that best suits your hair type.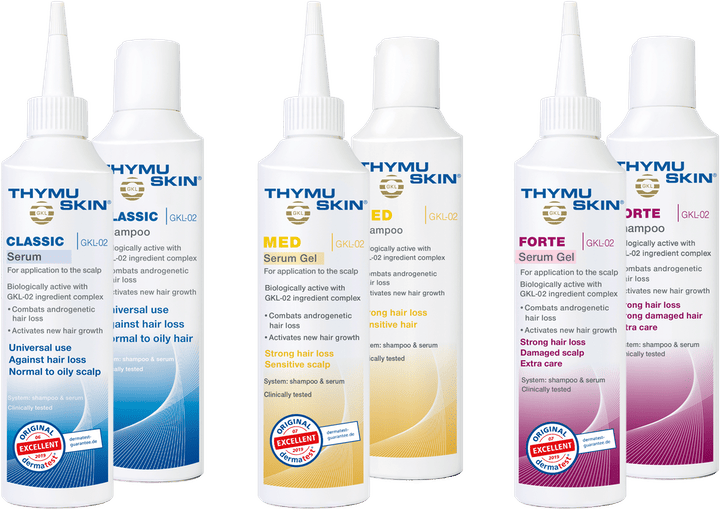 Serum
Select the appropriate serum by determining the strength of hair loss.
Mix & Match
You can mix and match different lines e.g. Thymuskin Classic Shampoo + Thymuskin Forte Serum Gel.
In any case we recommend to consult your doctor, Thymuskin specialist or turn to info@thymuskin.de for advisory service (free of charge).
Alternatively, you can also use our classic product finder to select the right therapy combination for you:
Select the Thymuskin Shampoo, which matches best with your hair condition (see left side).
Select the suitable Thymuskin Scalp Treatment Serum by identifiying the strength of the hairloss (see below).
If information is available by the number of lost hair per day.
THYMUSKIN®
CLASSIC
Universal use against hair loss
Especially for normal to greasy hair & scalp, applicable against all kinds & stages of hair loss, strong efficacy results e.g. for androgenetic (hereditary) hair loss.
THYMUSKIN®
MED
Against strong hair loss
Especially for sensitive hair & scalp, intended for use on sensitive, dry or seborrheic hair & scalp and where balding is already present (since max. 3 years). +25% of GKL-02 active complex.
THYMUSKIN®
FORTE
Against strong hair loss
Especially for damaged, exhausted hair & scalp, for intensive needs due to stressed hair & scalp condition. +100% of GKL-02 active complex.